WILLIAM PECK, AIA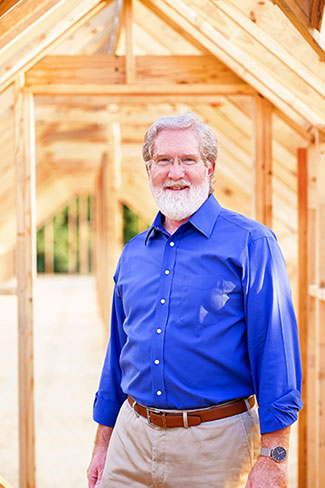 Bill began working in the architectural field in 1982 and founded Peck Architects in 1995 in Old Town Lewisville. Even before becoming an architect, Bill was a trim carpenter and construction manager, which adds to his field experience and knowledge.
He expertly incorporates the latest in conventional and renewable building technology to design truly custom projects that reflect each client's style and needs, including accessibility. Bill's unique combination of energy-efficient and accessible designs received the attention of the Denton County Senior Services Group who appointed him to the Senior Housing Task Force. He also has designed several show homes that demonstrate sustainable designs (including net-zero homes) can fit a family's needs and the neighborhood's style.
Working with the University of North Texas as a Faculty Associate, Bill is dedicated to educating others on the benefits of sustainable, energy efficient design and building. A knowledgeable speaker on green, sustainable design and building, Bill has given educational talks on green building throughout North Texas and Mexico.
Bill also designed projects for senior housing and accessed-challenged clients. In the Old Town Lewisville Historic District, his firm completed the revitalization of seventeen Main Street projects helping to bring business and life back into the area. His firm also designed and developed a 17-home low income housing neighborhood that promoted community living including front porches looking on the community's playground and picnic area.
Peck Architects is committed to working with local non-profit organizations to improve their facilities and provide affordable, energy-efficient housing. His projects can be found throughout Texas, Oklahoma, New Mexico, Colorado and Utila, Bay Islands, Honduras.